ABOUT YUNZIN
Yunzin Sanitary Implements Co., Ltd.
the most trusted professional manufacturer
for supplies used by fresh food,
meat and food preparation plants

.
Yunzin Sanitary Implements Co., Ltd.
was founded in 1978.
With years of professional service and
distribution experiencesin the food processing industry,
we can provide consultation and advices that satisfy
and exceed your product, work environment, sanitation and safety requirements.
Meanwhile, as consumer requirements on food health and environmental
cleanness continue to rise, we have also ceaselessly strived to develop and research products
and services that can better meet market requirements on sanitation and cleanness.
Our products passed the MIT Smile Product Certification System and ISO 9001:2015 certification.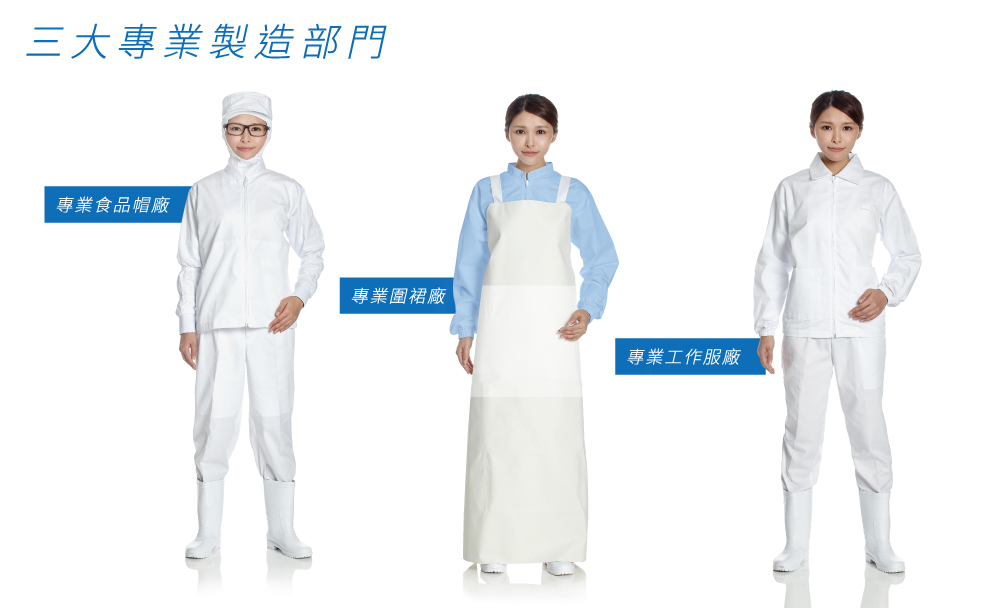 We are a professional manufacturer and producer,
and all our production processes (from material purchasing to manufacturing processes)
take place in Taiwan and our fabric materials procured are made in Taiwan as well.
I.Professional apron manufacturing plant:

For industries such as meat cutting and slaughtering,
processing and fresh food preparation, catering and bakery industries that require special process procedures,
we offer professional aprons that are water proof, wear resistant and heat resistant.
From materials we use to all the processes carried out to produce an apron,
each apron from our facility is uniquely designed by our RD team.
Considering how each different apron will be used,
we also add proprietary grease resistant and detergent resistant formulas that can
effectively extend the product life and enhance their durability.
Type:
Grease Proof Rubber Apron, Tarpaulin Apron, PVC Apron,
One-piece Apron (with sleeves), Twill Fabric Apron,
TC Apron,
Denim Apron, Polyester Apron, and Disposable Apron (PE and CPE)
II.Professional sanitary hat manufacturing plant:
Yunzin is a professional sanitary hat and safety cap supplier.
All the sanitary hat and safety cap products are exclusively developed based on sanitary and healthy protection
requirements of the food processing industry and can effectively prevent fallen hair,
disgusting flaking skins (peeling) or foreign objects from contacting food;
are comfortable to wear, breathable, elastic and lightweight after a long period of wear.


Type
:
Sanitary Mesh Hat, Hood, Two-piece Sanitary Hat with Tightening Straps.

Mesh Sanitary Brim Hat, Premium Thin Mesh Hat, Mesh Hat,Shower Cap

III.Professional Workwear manufacturing plant:
Our professional workwears are developed using industry leading technology and exclusively
by our RD team based on special process and environmental requirements in the food preparation
and processing industry. They can keep disgusting flaking skins (peeling) or
foreign objects (ex. Hair, thread, or small pieces of paper)
within the workwear, offer special protection to the wearer and extremely lightweight to wear.
Type
:
Workear Jacket,Hooded Workwear, Long Workwear Coat,
Protective Workwear, One-piece Disposable Workwear,
Disposable Workwear for guests, Raincoat.
Disclaimer:
•Yunzin Sanitary Implements Co., Ltd. does not have any distributors or agents. For all your purchasing needs and inquires, please contact us directly.
•All our apron, sanitary hat and safety cap and workwear products are exclusively developed by us, and we hold patents for all our products. All similar products in the market are counterfeit products and their quality, functionality and materials are not guaranteed. For all our corporate and individual customers, please avoid those products.
•All behaviors involved in product infringement and production of counterfeit products are illegal and may result in legal actions. To avoid unnecessary disputes, please be respectful to yourself.